The author of this article is Stefan Boshoff a senior Country Trax Instructor and avid motorcycle adventurer.
I have liked the new bikes since their launch. The debate about "best adventure bike" is ongoing. No new arguments, it is more about different riders punting what is important to them, and this variation results in different solutions to the "problem". With the assistance of Sovereign Motorrad, I have a new 1200 GS. Great adventure bike. It replaces my previous GS with improvements in all departments. That is not what this thread is about. I have used my 990R and 6 previous variants of the LC8 for expeditions over the last 10 years. Some reported in detail, others not. I was quite convinced that I will own an LC8 until I die or stop riding, whichever occurs first. Then, along came KTM and stopped making 990′s. My world imploded. After some meditation, 2 options remained: Change the nature of the typical expedition, or find a bike that replaces a 990.
Being my positive self, I decided to embrace the process – it is 2013 after all and we are not dinosaurs.
Maybe I should share a few notes regarding "adventure" vs "expedition". Adventure riding is about seeing special places from the seat of a bike, along pre-determined GPS programmed routes, with luggage strapped on, being self sufficient and riding at leisurely pace – often with a pillion. Tubeless tyres bring convenience. The places you see and the friends you make is the drive.
Expedition riding is not the same. Here it is not about seeing places. It is about riding the bike. The enjoyment of the ride is the prime driver of the idea. If the route happens to pass a scenic place, great. If not, also good. Luggage on the bike spoils the enjoyment, therefore we team up with like thinking 4×4 riders, and we work together. There is no luggage on the bike to hold back the fun, the tyres are tubed – we get sidewall cuts and sudden blow-outs make it dangerous. The suspension should be adequate for moving at pace over terrain selected for max enjoyment of the ride. Reliability is important, loading bikes bring logistic challenges. Therefore, expedition bikes generally have few accessories. Only things that improve robustness and reliability. The 990R in my mind is the best tool for the job. Others choose 690′s, Rally bikes and even HP2′s. They all work. But I am not a 690 man, Rallye bikes are expensive and HP2′s (and 990′s are about to become) are dinosaurs. So where to from here?
Some in-depth research kicked off a process of info gathering and some team talks with my esteemed KTM dealer and long standing friend in Cato Ridge. A plan was born and all we had to do was wait until the next shipment arrived. Some weeks ago, the call came and we could start working. Can the 1190R become an expedition machine? Here is my humble attempt….
The 1190 R comes with tubeless tyres. I cannot live with this idea, it had to change. So, we had to make a plan. Long story short: Rear wheel consists of 990 hub, spokes, rim and 1190 ABS sensor and brake disc. Front wheel: 1190 hub, 950SE spokes and front rim, 1190 discs and ABS ring. (1.85″ DID Dirt star). This is a short description but took many hours to get right. Eventually it was sorted and passed our stringent QA program. Axles and spacers required no modification – stayed as-is. Knobbly tyres (Mitas E-09 to start with, but will probably change in future – had to try out a set at some point….) and thick tubes complete the picture. The software part is simple, just un-tick the block on the computer and the Tyre Pressure Monitors disappear from the on-board computer.
Rear wheel: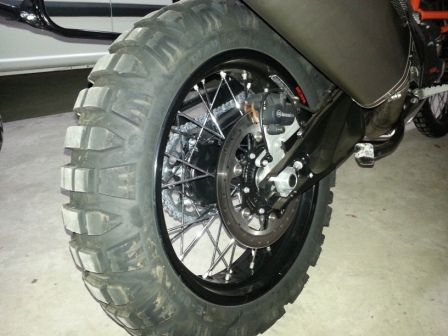 Front wheel: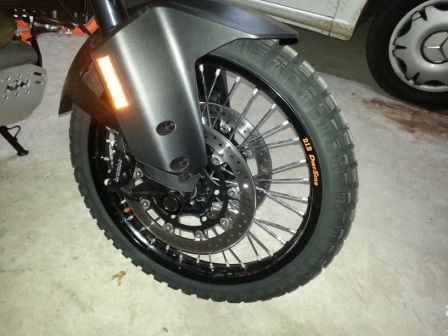 Akrapovic pipe. An expedition bike (any bike for that matter) has to have it…. The catalytic converter and the dB killers had to go. Just to ensure value for money.
Protection is essential – I fall off bikes and it is a real issue. I do not mind the off's, it goes with the expedition thing. But maximum protection of man and machine, without becoming stupid is important to me.
Rear pannier frames – the KTM ones are strong and I think they will work well as crash bars for the rear. The front crash bars are standard. And the KTM bash plate looks like it will work OK. Bending 6mm aluminium at speed will not be difficult, but we are giving it a try. That 15kg Land Cruiser Bull Bar Look Alike system is probably good too, but it look a little over the top to me.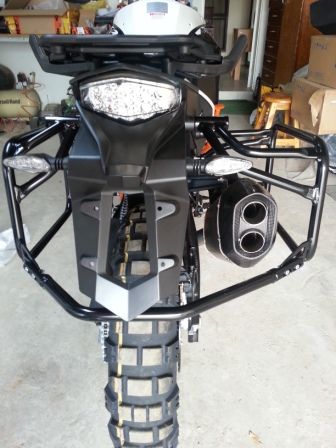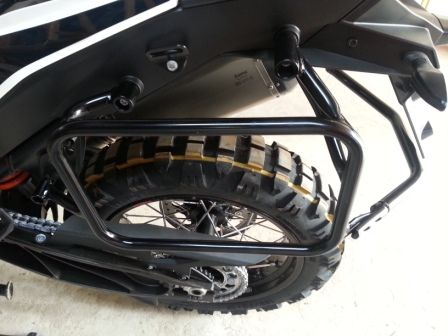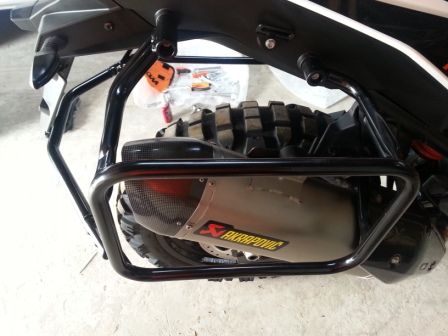 Bash plate: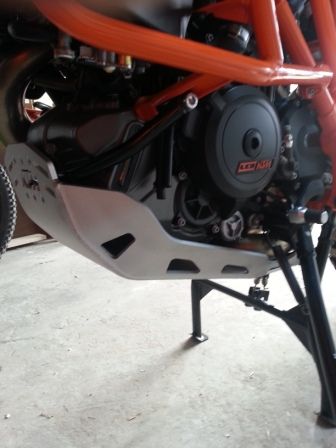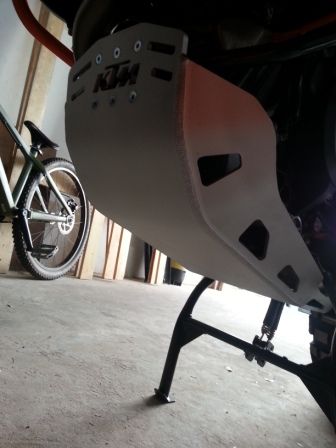 Without the bash plate, there is a lot of exposed plumbing and metalwork under the bike. Must have item.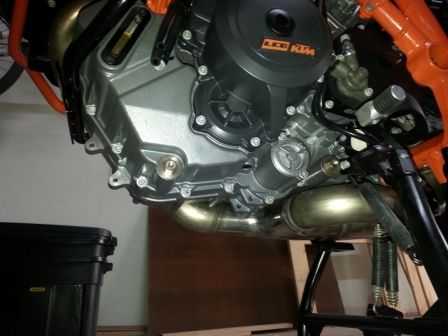 The next issue that required attention was the ABS and Traction control. All this wiring, pumps and plumbing is not part of my list of things to have on a bike. So I had to find a way of disabling them. The so called "Off Road and Bad Fuel Dongle" does all of that. It allows for use of 80 octane fuel, and more importantly, it causes the bike to restart without changing the ABS and TC settings from when it was last switched off. I installed the little gadget, easy operation.
The "black box" is visible on the aluminium bracket – all part of the kit.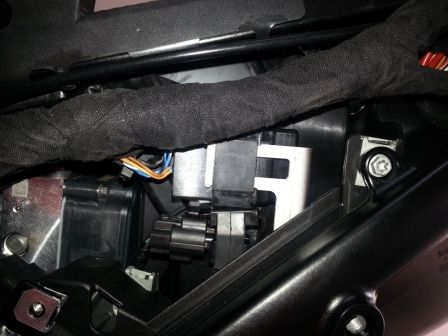 It plugs into the diagnostic connector on top of the battery cover under the seat. Neat installation.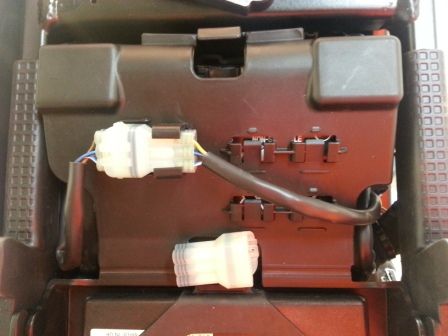 Once installed, the bike feels that it is illegal, but forgets about it at the press of a button. Easier then switching off ABS and TC at every start-up.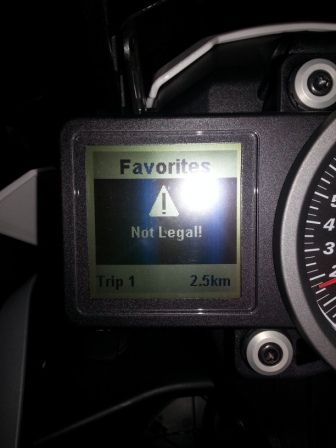 Wider foot pegs make expedition life a lot more comfortable. I used to modify the pegs with bits of old pegs recovered from garbage cans at the Roof. No KTM sells them ready made. Great pegs…. Can stand on them all day…..
Before: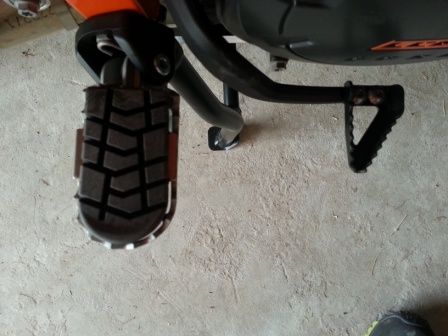 After:
Head light protector / filter, orange one…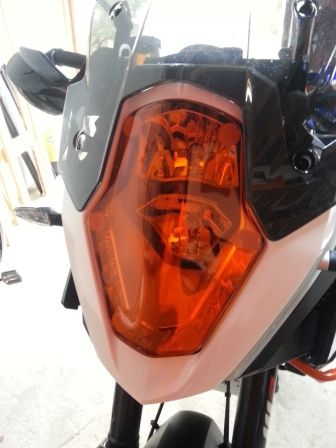 To conclude the first round, rotated the handlebar mounts on the triple clamp to move the bars forward, and dialled in the suspension to the Sport mode.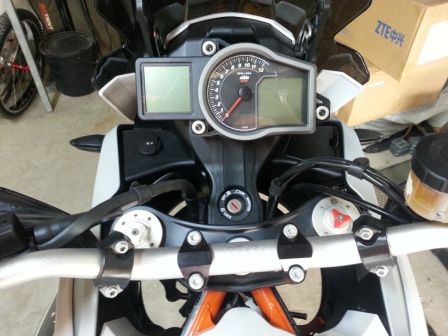 The suspension is still a science on it's own which needs to be properly researched and defined before I make any changes. I have read and collected all the info I could find, but still need to add my own testing so that I can go see Hilton with a proper brief.
So, that is my attempt to start getting this bike rideable. There are some other things that still need attention, will update here as the wisdom reveals itself – and hopefully end up filing a trip report or two reporting that the bike is doing what I am expecting from it.
The process continues…..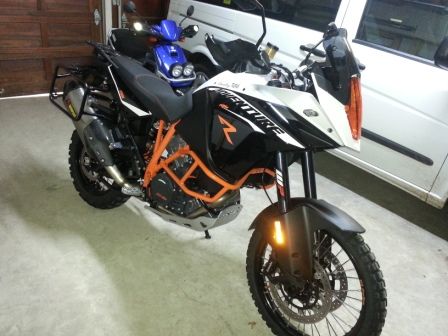 If you would like to follow the discussion on this topic please visit the WildDog Forum where this article was originally published.